So here are my 2 pumps. Yes they both work. Very cool custom guns.
First up is the pump ion. Very cool gun. Ion works like normal. Replace solenoid with 3 way. Rig up pump kit to activate the 3 way forward when pumped back. Trigger can now be pulled and shoots. Only a ~1/4" pump stroke. No resistance except the return spring and 3 way. VERY smooth. Can be shot very fast. If actually interested I can get a much better new video showing everything and better shooting.
Smart Parts Ion
CCM Pump Kit with return spring
Superbolt 3 Way
DM3 trigger
Promaster trigger guard cut and epoxied for new trigger guard
Cut body
CP On/Off
SP Progressive
Pics
Video to show that it works. Took this before I made it all pretty :)
Wants:
$300 OBO. I dont really want to sell it at all, but I will if I get a decent offer.
Next up is my RF WGP Sniper. Its a pre2k model with custom work done to it by previous owner. Its work and you can tell it has actually been used. Body has slots cut in the top and bottom tube.
WGP Pump Kit
WGP Slider Frame
WGP Trilogy Regulator
WGP Old Style Non-ported Barrel
Duckbill ASA
Shoots great and no problems. Can also get a video if interested.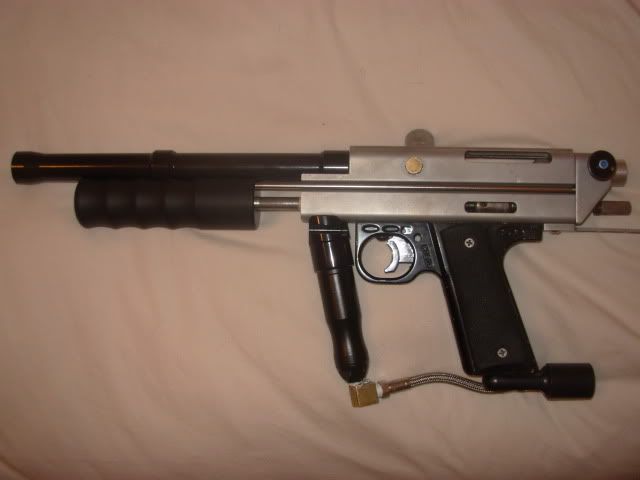 Wants:
$200
or trade for a traccer/maverick+cash
Thanks!